N1850040 | Non-Insulated Wire Ferrules
Our Non-Insulated Wire Ferrules are made of tin plated copper with a flared end for easy wire entry. These ferrules are manufactured in accordance with strict DIN and UL specifications.
What is a wire ferrule? A wire ferrule is a tinned copper sleeve, which is slipped over stranded wire and then crimped. This creates a solid connection for insertion into terminal block housings or various other applications. The crimped ferrule provides a sturdy connection that limits wire fraying and increases the life of the conductor.  Our ferrules are sold in packages, strips, and also in reel form.
Part #: N1850040
185.00mm² (350 MCM) – Tin Plated Copper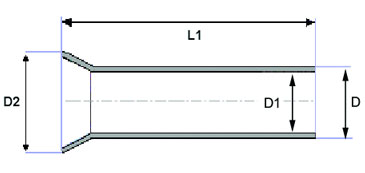 | | | | |
| --- | --- | --- | --- |
| L1 | D | D1 | D2 |
| 40.00mm (1.57in) | 21.4mm (0.84in) | 20.2mm (0.80in) | 23.9mm (0.94in) |
Product Spotlight
Electrolytically tin-plated copper
CE Certified, RoHS Compliant
Maximum Electrical Rating: 2000V
Maximum Electrical Current: 445A
Clear package labeling for easy identification and re-ordering
Related Products
Precision CNC machined die set for wire ferrules.
Precision CNC machined die set for wire ferrules.
The crimping tools listed in this category represent the most extensive selection of crimping tools for ferrules in the United States. If it is not here, you probably don't need it. If you can't find the tool you are looking for, give us a call at 703-421-2805 or send us an email message at support@ferrulesdirect.com.

Hydraulic tools are excellent for applications that require a large amount of crimping force. These heavy duty tools also have a wide array of interchangeable crimping dies in order to suit a variety of sizes.